Last week, GetStoried.com hosted their annual Reinvention Summit, an online conference that featured live sessions from 20 of the leading authorities on using storytelling to develop more compelling business communications. One Net Marketing was there to cover the conference and brought back 35 powerful tips. These storytelling tips will help you develop better digital content strategies, reach a wider audience with your business blog, win pitches, and develop better branding and product positioning.
You can get the full video sessions of the conference here. And don't forget to download GetStoried's Believe Me: A Storytelling Manifesto for Change-Makers and Innovators—one of the most insightful and valuable eBooks about storytelling and marketing out there. It's free, by the way.

These tips were all captured from the live sessions.

Storytelling and Business Communications
1. The job of the story in business is not to organize information, but to make the deal repeatable . . . You need people to take the story and repeat it outside of the sales meeting . . . Stories do this by creating tension . . .which sustains interest and attention to your idea. Oren Klaff, author of Pitch Anything, www.intersectioncapital.com
2. Often missing from people's [business] stories is the key idea of introducing the stakes and context…help people locate themselves in the story . . . show them how this is relevant to them. Michael Margolis,GetStoried.com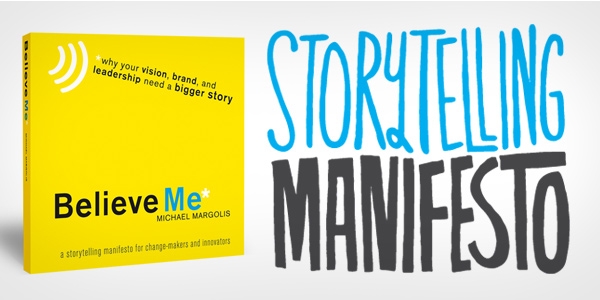 3. If you are going to lead, if you are going to be successful, everyone is going to have to learn [how to tell their story]. Because if they don't, if they want to be dinosaurs and stick with the old 'I don't share myself and I don't talk about myself in business communications'—I think those people are on a sinking ship, and they know it. Bo Eason, www.starlightrunner.com
Image by the talented Emily Marko www.emilymarko.com
4. For those in the business of communications—those hired to tell other's people 's stories—you really have to learn, and witness, and embody your own story before you can truly help others tell theirs Michael Margolis.

Business Story Archetypes
5. Setting, person, struggle, resolution. This is the basic story flow of most stories. Rohit Bhargava, http://likeonomics.com/
6. There are five business story archetypes you need to learn to tell:
The Passionate Enthusiast (example, Moleskin Journals);
The Inspired Inventor (example, Dyson Vacuum cleaners);
The Smart Listener (example, Stacy Pita Chips);
The Likeable Hero (example, Sal Khan, who built an online empire by teaching people complex subjects such as mathematics with online tutorials, named in Time Magazine's 2012 100 Most Influential People);
The Little Guy Versus the Big Guy (example, Kevin Plank of Under Armour taking on Nike).
7. Myth and archetype are the building blocks of narrative and story. Jeff Gomez, www.starlightrunner.com

Storytelling and Credibility
9. The most untrustworthy people are the people we don't know their motivations or intentions. We question them. We say, why is this person doing this? This makes it hard to trust another person unless we know where they are coming from. Storytelling—by showing vulnerability and humanity—can help with transparency—and that then serves as the place of connection with your audience. Michael Margolis, GetStoried.com
10. If you have a customer who is on the fence about purchasing your product or services, there is nothing as effective as a customer story to push them to act. Gartner Analyst Quote via Casey Hibbard's Session
11. If a picture is worth a thousands words, then a story is worth a thousand assurances. Via @TheStoryFactor

Using Storytelling for B2B Marketing
12. Make your customer stories reflect and match the customer considering your product. The audience should see themselves in the story. This can be done by featuring a similar industry, a similar size business, or location. Or match it to the customer's challenge and show how the story solved it. Casey Hibbard, www.storiesthatsellguide.com
13. [Winning business] is not only a financial transaction, it is a social transaction … you can't control the financial transaction until you get control of the social environment. Who is going to do a deal with you if they don't like you, don't trust you, and don't believe in you, and aren't willing to follow you? Oren Klaff, author of Pitch Anything, www.intersectioncapital.com

Storytelling and Branding
14. Marketers are interested in elevator speeches—what your brand does, how you are different. These can be useful, but most of these are brag and boast statements. [A brand story] can be much more meaningful because it is value and belief based. Jim Signorelli, author of StoryBranding: Creating Stand Out Brands Through the Power of Story, www.eswpartners.com
15. If you have a birth certificate, you have a brand. Jim Signorelli
16. When dialogue is introduced, it weakens control of the message. Jeff Gomez

On Uncovering Stories to Tell
17. Go into the part you don't want to talk about. What is the section of your life that you least want us to see? That's the gold . . . That's your [unique storytelling] calling card [. . .] Bo Eason
18. The more personal your story, the more universal it becomes. Write and act on the specific stories that give your life its greatest meaning and fulfillment. It may not seem like it is relevant to the world . . . yet it is the very specifics of your life (the smells, the tastes, the sounds)—in the full glory of its messiness—that is universal to all. Bo Eason
19. It's really hard to make an emotional connection with a feature or function. Jim Signorelli
Image by the talented Emily Marko www.emilymarko.com
20. Start at your very lowest moment . . . the moment where you looked around and you thought it was over. You had nowhere to go. Then show the decision you made to fight, rather than run . . . A battle to fight—that's a story. Bo Eason
21. People are looking for themselves in you—in a world that tells us to be strong, people appreciate you revealing your weakness because it gives them hope. Kahlil Ashanti, www.kahlilashanti.com
22. Try to perceive the world as a series of questions. Robert Tercek, www.robertercek.com

Using Stories to Persuade
23. The more information you deliver, the more people will trust you and feel comfortable—and the more people trust us and feel comfortable with us, then the chances are higher we can influence them to accept our ideas. Storytelling, controlling the frame, can help hold attention and deliver information by using narrative arcs and tension. Oren Klaff

Storytelling that Reaches a Wide Audience
24. Our team is trusted because we don't impose your story on you. We take your story and magnify it. Jeff Gomez
25. Generosity equals income potential . . . Think of the greatest people you know, the greatest athletes and occupations you admire the most: whoever gets paid the most gives the most of themselves to that particular sport, or occupation, or art form. Bo Eason
Image by the talented Emily Marko www.emilymarko.com
26. Engage people you would not normally reach on an emotional level by incorporating them into the mythology. Jeff Gomez
27. What I've found is that the more open and honest I am about my self and my personal story, just being who I am in real life, the more I can connect with my audience and the bigger it grows. Corbett Barr,www.corbettbarr.com

Using Storytelling in Business Blogging
28. For your business blog, you need to have your ideal customer avatar. Or have one person in your mind that you always write for—and that person is a composite of the ideal market, the people you want to serve. Marie Forleo, author of Make Every Man Want You: How To Be So Irresistible You'll Barely Keep From Dating Yourself, http://marieforleo.com/
29. Every time I've pushed the boundary I've found a bigger audience waiting for me. Corbett Barr

Use Stories To Win Pitches
30. Pitching is an attention problem—all the information you provide a person enters their brain through the most primitive part of their brain, the crocodile brain [the brainstem]–and the crocodile brain filters information in a very, very simple way: if it is not novel, ignore it. If it is not visual, ignore it. If it is not related to movement, ignore it. If it is not dangerous, sexual, food, ignore it . . . the way to solve the attention problem is to make it simple, very high contrast. Provide very clear context, never seem needy like you are going to take their resources, and make it fast and visual. This gets you through the defenses of the crocodile brain to the neocortex, the higher brain. Oren Klaff, author of Pitch Anything
31. The crocodile brain is interested in survival—if your pitch looks like it is going to use up resources, it ignores it. Oren Klaff
32. Our brain is designed to take in visual information much faster than auditory information—make your pitch fast and visual. Oren Klaff

Narrative Meaning
33. Every thought we think is creating our future. Robert Tercek, www.robertercek.com
34. People are looking for themselves in you—in a world that tells us to be strong, people appreciate you revealing your weakness because it gives them hope. Kahlil Ashanti, www.kahlilashanti.com
35. One of the basic building blocks of story structure is: start with a want or a need, and then write us into what you are willing to do to get there and what it means to you. The audience then can buy in emotionally and join you on that journey. Kahlil Ashanti

Get the Full Sessions
You can still purchase access to all of the videos from GetStoried.com's Reinvention Summit 2 here.
And please share your own tips below, including any you picked up from the Summit.
For more digital marketing strategies and free resources, follow One Net Marketing on Twitter.
Illustrated images are credited to the talented Emily Marko. View more of her visual work and hire her for infographics and other visual work atwww.emilymarko.com.