Weird Al just might be the best content marketer on the PLANET. And we got the jokes to prove it.
My first memory of Weird Al was his 1993 Alapalooza album, which I saw in Walmart. My friend picked it up and handed it to me, laughing. It showed Al's silhouette mirroring the iconic T-Rex logo from Jurassic Park.
If you were alive back then, you'd know just how big a thing Jurassic Park was. It was ground-breaking. Action, CGI, DNA science, and real-life dinosaurs. It was a movie feat that swept the nation and held audiences in awe of film technology. It's one of the highest grossing films to date. So, of course Weird Al would make fun of that!
Jurassic Park isn't scary or cutting edge anymore. Coolio traded hisGangster's Paradise for a modest LA condo. And even the grunge rock icons that Weird Al feasted on throughout the 90s have faded into cultural nostalgia. But Weird Al is still out there, selling albums, booking shows, and killing it in social media. Weird Al has staying power while the pop icons he mocks fade and disappear.
Here's why Weird Al is one of the greatest content marketers alive today.

The art of being weird
Weird Al's secret content marketing sauce involves three things.
Be everywhere at once.
We'll talk about his promotional strategy later. But Weird Al shows that it's better to launch with a big splash instead of a slow drip.
Be known for one thing.
You won't find Weird Al releasing a classical harp album or a didgeridoo solo. He picked a niche (parody), built up a body of work, and amassed an army of loyal fans. 20 years later, and 15 albums in, Weird Al still owns it. He has become synonymous with musical parody.
Owning your niche is the best strategy to get your product or brand top of mind. It's also critical for generating mass amounts of inbound traffic. Jason Fried of 37 Signals owns the concept of Signal vs Noise. Tim Ferriss has been writing about the same core theme ("experiments in life design") since 2007.
Move fast and publish.
Weird Al doesn't create masterpieces. He creates fast and often, listening and commenting on pop culture as it shifts and changes. He knows that his trend-based content can reach a wide audience. But the longer he waits, the less impact it will make on the culture.
Let's go through Weird Al's secret weird sauce.

Be everywhere at once
Weird Al knows how to promote.
He's currently everywhere online. His hashtag #8videos8days is trending on Twitter. At the time of this post, Weird Al has released 4 of his 8 videos from his new album Mandatory Fun with a combined total of 13,036,714 views in just 4 days. Impressive.
He's also not reliant on one channel. He could have easily uploaded all 8 videos to YouTube but instead he's rolling out exclusives. CollegeHumor had the exclusive on his Lorde Parody 'Foil'. Yahoo Video has the exclusive on 'Handy' while Vevo has the exclusive on 'Word Crimes'. He's everywhere and his audience follows dragging their ad-clicks along with them.
You'll get more value from your promotion efforts if you launch a blitz instead of a series of small attacks. This isn't the first blitz that Weird Al has orchestrated. Back in 2011 he dropped 12 videos in a single day for his album Alpocalypse.

Be known for one thing
When he was 17, Weird Al would go to open mic nights. They would be filled with folk guitarists and song writers.
He'd get up with his accordion and do a parody of the theme from 2001: a Space Odyssey. Since then he's recorded more than 150 parody songs and sold more than 12 million albums.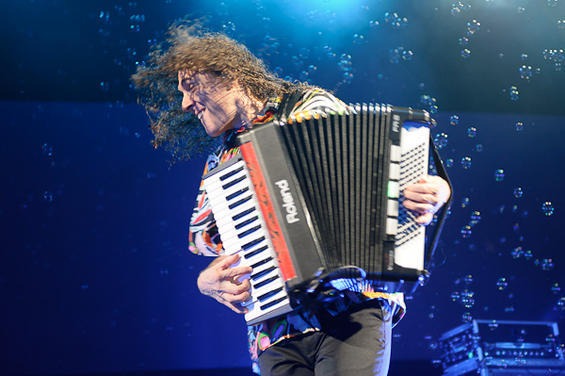 Weird Al found his niche and he's stuck with it year after year, decade after decade. It's better to be really famous for one type of content or topic than it is to be barely visible for a bit of everything.
The point of content marketing is to become an authority in the mind of your market. So write a mile deep and an inch thin.

For broad reach, go beyond your product
Weird Al stays relevant and keeps his audience consuming because he knows that his audience's story is always shifting. This reveals a basic truth: if you want to reach a wide audience you need to tell a bigger story, one that goes beyond your product-level messaging and relates to the current trends in your market.
Since the creative revolution of the 1960s, Madison Avenue agencies have understood the central role that pop culture plays in selling and positioning products.
For example, the classic American Coca-Cola of the 90s is much different than emotion they use today to market Coca-Cola. The audience has shifted from American nostalgia to globalization. McDonalds has followed a similar path, using big universal emotions that resonate with billions instead of millions.
Content marketers can learn a lot from Weird Al's trend-watching. Weird Al knows that it's the broader culture that packs the punchline. And this culture is always shifting, so he parasitically shifts right alongside it. This is why he outlives the cultural icons he mocks.
"In Seattle," Weird Al sang in the 90s to the tune of Nirvana's Smells Like Teen Spirit, "with all the cattle." I laughed when I heard that line as it offered a sharp contrast between the high-minded emotional severity of the grunge movement and the other often ignored fact. Maybe these were just bored farm teenagers?
"I Instagram every meal I've had," Weird Al sang yesterday to the tune of Pharrell's Happy.
Instead of creating content marketing personas around basic data, think about the market context shaping your buyer's choices. Are they worried about becoming outdated by competitors? What are the trends in the market? What is the common culture you share?
An excellent example of this is Moz. They built their content marketing angle around the idea of ethical SEO. They championed a community of SEO professionals, not SEO scammers or SEO blackhat short-cut takers. This is a much bigger story to tell than "our audience is a marketing professional at a medium-sized agency looking for ways to stay competitive."
Moz also shifted last year away from purely being a "SEO" software company. They are now following a different trend and building content around the theme of "being a better marketer."
While I personally think their current positioning is weak, they have to be credited with having the vision to leave SEO behind right when they owned the space. They know that "SEO" as a single channel is changing and they are moving with the industry and trying to find their place.

Timing is everything
Back when digital began to take-off, Weird Al released to the iTunes Store "Whatever You Like", a parody of the T.I. song of the same title. Weird Al embraced digital distribution and quickly moved with the trend. He was reported saying, "I don't have to wait around while my songs get old and dated—I can get them out on the Internet almost immediately."
Evergreen content is great. We create a lot of it. But if you want to expand your digital reach you need to act and write about trends.
Timing with trend-related content is everything. Weird Al knows that the sooner you release your content the better.

Never cut your hair
Weird Al's persona and hair hasn't changed much. It was shorter in the 90s but for the most part he looks like he did 20 years ago.
Most companies switch their positioning, logo, and brand identify way too frequently. In the editable world of digital marketing, it's tempting to tweak and pivot your product. But the point of branding and positioning is that the market comes to know you for one thing. Weird Al adapts to the time but his brand of comedy never changes.
This goes back to the importance of being known for one thing.

Be weird like Al
Find out about our inbound marketing services here.

Now watch some Weird Al
Enough with us. Watch some Weird Al!
Here are a few videos from his new album Mandatory Fun:
Tacky (Parody of Happy)Foil (Parody of Royals) Handy (Parody of Fancy)Word Crimes (Parody of Blurred Lines)